I was not able to attend the Saturday, November 9, 2019, NC State vs. Clemson game and did not want my tickets to go to waste so we did a fun giveaway where readers had to answer the following trivia question:
What is the nickname given to the Clemson vs. NC State rivalry? 
The correct answer was The Textile Bowl. 
Why Is the State-Clemson Game Called the Textile Bowl?
The name dates back to 1981 and was a joint effort by North and South Carolina to promote the importance of the textile industry to the economic development of their states. At the time, Clemson and NC State had two of the largest, most-respected textile schools in the world. In addition to the football matchup, the schools would sponsor special events for students of their respective textile programs in the days leading up to the game. There is a revolving trophy that goes to the winner of the annual ACC Atlantic Division matchup between the Wolfpack and Tigers. You can learn more at SI.com.
A Note From the Winner…
I received the nicest note from the winner, Emily S. and though the Wolfpack suffered a terrible defeat of 55 to 10, I think they still had a great time at the game. Go Pack!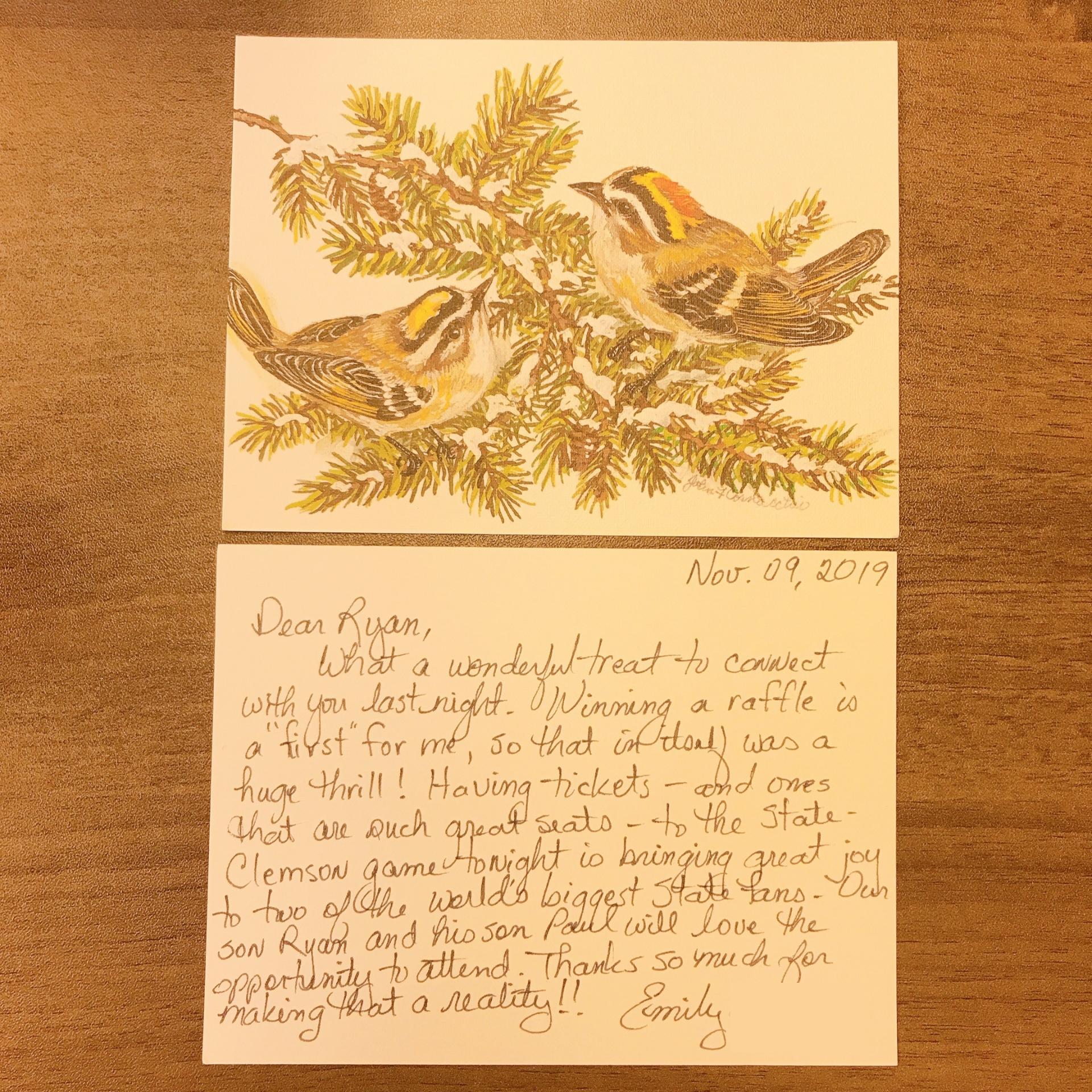 The note reads:
What a wonderful treat to connect with you last night. Winning a raffle is a "first" for me, so that in itself was a huge thrill! Having tickets – and ones that are such great seats – to the State – Clemson game tonight is bringing great joy to two of the world's biggest State fans. Our son Ryan and his son Paul will love the opportunity to atted. Thanks so much for making that a reality!" – Emily S.
Thank you again to everyone who entered and be on the lookout for more contests coming soon!