Front Porch Sittin' Season is Here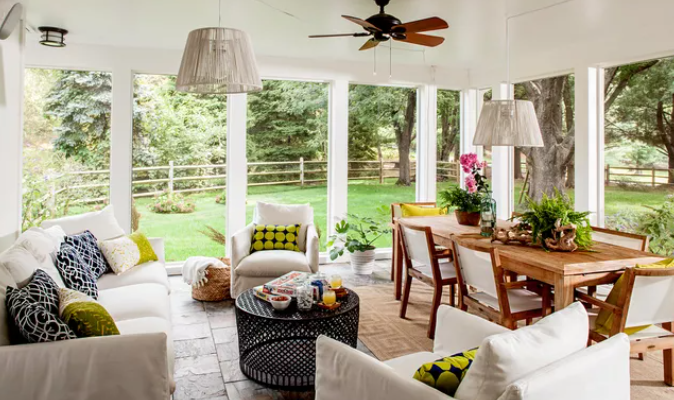 The first day of fall is Thursday, Sept. 22, 2022, which means the weather will *hopefully* start cooling down enough for you to really be able to get outside and enjoy your front/back porches for a few months! Fall is my favorite season for spending time on my back porch, watching football games, and hanging out with family and friends—so when my teammate Annie Meadows shared the article, 27 of the Prettiest Porches We've  Ever Seen and How to Get the Look with me, I put aside the pretty title and decided to give it a look. 😉
Pull up a Chair
Annie always keeps me up to date on the latest home trends and I cannot wait to give my porch a facelift for fall with some of these ideas. Comfy seating, eye-catching color schemes, and stylish accessories are what is in this year for creating an inviting spot for not only you to relax but your guests as well. Get some decorating tips here and keep reading to see some of my favorite ideas from the article.
Inviting Screened-In Porch
"A screened-in porch with a casual vibe is perfect for laid-back parties as well as every day relaxing." This is exactly what I use my porch for so I immediately gravitate toward this style. If you design your porch with a neutral foundation, you can easily swap in colorful accents for different occasions or seasons.
Small Funiture for Front Porch Ideas
Small porch? No problem! Scaling down your furniture to suit the space will make your porch feel more comfortable and larger.
Timeless Porch Design
White rocking chairs with a gray color scheme—classic!
Modern Porch Design
"If you crave a serene and well-ordered getaway, opt for clean lines and a reserved palette with a comfortable vibe. Bleached or gray-washed woods and solid neutrals are the base for this porch's understated palette, in which no one element demands too much attention. Contrast boxy outdoor furniture with a few curvy pieces to keep things from being too stark."
Multi-Function Porch Design
This is my dream porch! There is room for lounging, dining, and playing. I like how the white upholstery on the dining chairs is mimicked on the sofa and chairs to really tie the space together. Of course, I would have a TV on the wall to cheer on the Wolfpack!
Porch Envy?
Are you feeling some major porch envy? Do you need a new foundation to create your perfect outdoor space? I would love to help you find it. Call or email me at 919-438-0548 or Ryan@HudsonResidential.com to start your home search.
Source: Better Homes & Gardens