Wake County's real estate market continues on an upward trajectory as the median sales price of Wake County real estate hit another new all-time high of $405,000 in November 2021, which is a $6,500 increase from October 2021's price of $398,500.
Over $791 million in sales were made with ten real estate transactions for the very high-value segment (transactions worth $30 million and above)—a $582 million increase from October's four transactions of about $209 million. Meanwhile, the high-value segment, (transactions worth between $1 million to $30 million), saw 149 transactions totaling over $518 million, and transactions in the Core Market (properties valued at $1 million or less) saw 2,754 transactions totaling $1.12 billion.
Read the full November 2021 Wake County real estate report from the Wake County Register of Deeds here.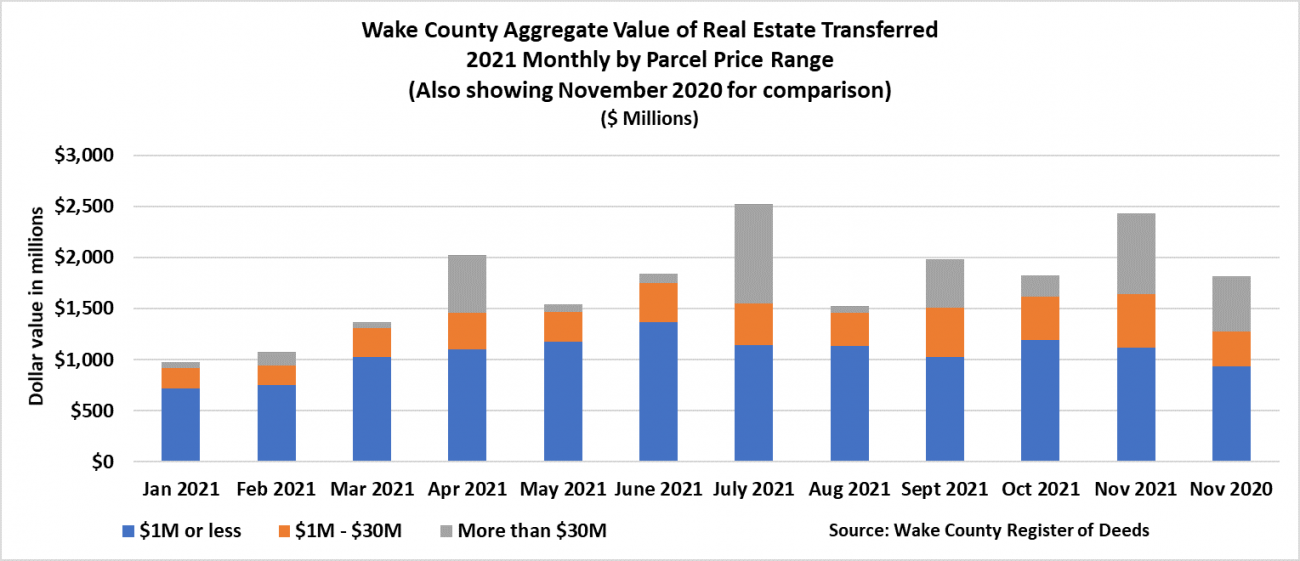 All of this just goes to show how attractive Wake County real estate really is—and there are no signs of it going down anytime soon. Wake County has gained many accolades this year due to its thriving real estate market, from Raleigh being among the top 15 cities to move to for remote work roles to being the second-best place to live out of the top 150 most populous metro areas. Raleigh was also named the third fastest-growing population in America (just behind Austin, Texas, and Cape Coral, Florida), with a 22.3% population growth from 2010 to 2019.
So with all that said, if you're in the market for a new home, don't wait! The longer you wait to buy, the more expensive it's going to be.
Need Help Buying a Home
If you need a hand in buying a home here in Wake County (I primarily serve the Triangle, with notable experience and interest in Downtown Raleigh and Inside the Beltline properties), I'm here to help. Give me a call at 919-438-0548 to set up a meeting about getting your dream home at a reasonable price—before it's too late!