Happy Buyer: 400 W North Street in Downtown Raleigh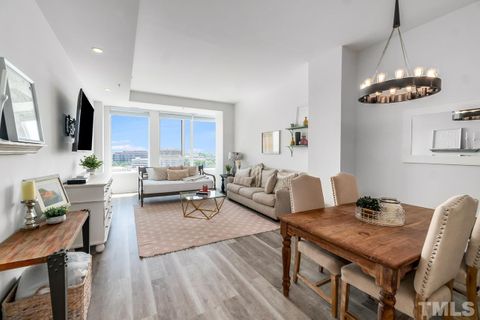 There is nothing quite as exciting as helping a buyer find their dream home, and that's why I'm so happy to share that I just helped buyer Todd J. close on a purchase for a luxury condo in downtown Raleigh! The space is absolutely gorgeous – built in 2008, the 958 square foot one bedroom, one bathroom condo features a beautiful kitchen with dark cabinets, granite counters, and stainless steel appliances, as well as a custom-built walk-in closet and spa-like bathroom with a walk-in shower.
Fabulous amenities like a rooftop pool and terrace and a large gym with professional equipment provide a luxurious hotel-like quality, only it's all yours to call, "home"! Breathtaking downtown Raleigh views greet you every morning, while some of the city's best restaurants—including Vidrio, Cortez, and Plates—are only a short distance away on foot, scooter, rideshare, or R-Line. While you may never want to leave the comfort and splendid amenities of the building, the area boasts great boutiques, wine bars, and local fitness studios that making living downtown all the more enticing.
This slideshow requires JavaScript.
Thank You for This Testimonial, Todd!
"Ryan Boone is hands down the best in the business. Having never purchased in this area, I had no clue what to expect. He handled every aspect from start to finish and was thorough and patient with my relentless questions. I would highly recommend him to anyone. You will not be disappointed." – Todd J., Raleigh
Looking for your new dream home? Contact me at 919-428-0548 or Ryan@HudsonResidential.com.