Have you worked with Ryan or someone from our team lately? We would love to hear about your experience and would love for you to leave us a review.
Thank you for the awesome reviews and testimonials you have left us so far! Check out what people are saying about us below and contact Ryan today if you are looking to buy or sell.
Jason B.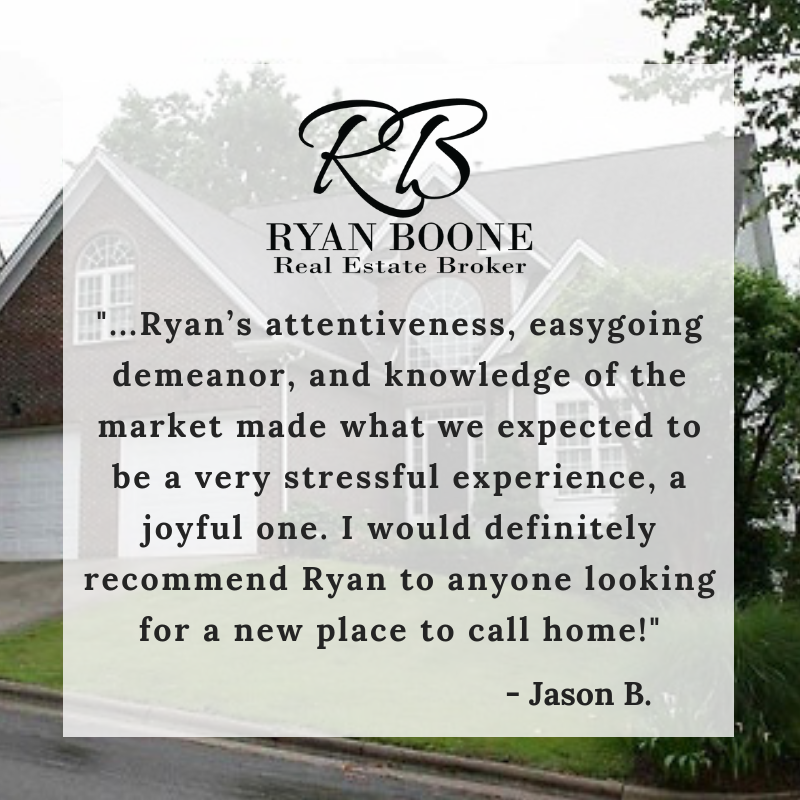 "Having received a promotion at work, I was needing to relocate my family (me, my wife, and 3 little girls) from Wilmington, NC to Raleigh, NC. I was referred to Ryan Boone by a coworker, and after only talking to him for a few minutes, my wife & I felt like he completely understood what we were looking for!
Since we lived a couple of hours away, Ryan spent lots of time advising us on what neighborhoods would work well for our family. He would consistently walk through newly listed homes in order to determine whether it would be worth our time to drive up and see one first-hand. Ryan was also incredibly responsive when we expressed interest in a property and was always available to set up an appointment & come with us to a viewing.
Ryan's attentiveness, easygoing demeanor, and knowledge of the market made what we expected to be a very stressful experience, a joyful one. I would definitely recommend Ryan to anyone looking for a new place to call home!"
Marielle B.
"Ryan sold our house last summer. He was very creative, professional and detail-oriented. He replied to my texts immediately. I could feel we were a great team.
Our house was under contract in about two weeks. Ryan maintained his professional attitude throughout the whole process. It was a pleasure working with him. I will definitely hire him again!"
Jackson W.
"I worked with Ryan Boone on selling my Five Points townhouse and the entire process went very smooth from start to finish. I think we went to market with the perfect price point. The selling price was both competitive and lucrative immediately resulting in several viewings and offers.
Upon selecting the best offer Ryan was quick to address and resolve any issues or questions that arose along the way. I'm very glad that I had a friend recommended Ryan to me and I would certainly recommend him to any of my friends!"
Sherri M.
"We met Ryan after calling him late one evening about a listing of his off Wade Avenue. He was very accommodating in taking our call and even more so in meeting us there the next day.
I have been a licensed broker in NC for over 20 years and while I do not actively work with buyers and sellers I do manage investment properties for my Husband and I. Very often when I make that disclosure to a listing broker they are not very eager to work with me, Ryan, on the other hand, was awesome. He was very helpful and answered our questions and was more than willing to work together to get his Sellers their best deal while being fair and equitable with us.
I have worked with a lot of realtors over the years and Ryan definitely ranks in the top 5! He is a fair, honest and a trustworthy broker. He does exactly what he tells you he will do.
I will definitely be looking for opportunities to work with him again. He is not just a great realtor he is a really good guy."
Robert B.
"We reached out to Ryan when we began my search for a home Inside The Beltline. He had a real knowledge of available properties in the area and price range we were shopping. Ryan was readily available to show us homes from the start. We gave him a list of five homes I liked and we saw all of them the next day. His initiative was impressive."
Against Ryan's recommendations, I opted for a foreclosed home that required significant renovations. He was concerned that the home would require major construction to simply be habitable. Ryan advised us to have all aspects of the house inspected before we committed to the purchase so he could ensure that we weren't buying the house from The Money Pit. He was able to negotiate an extended amount of time to allow for all inspections to be completed prior to the end of due diligence so we didn't lose any money. Ryan scheduled all of the inspections with licensed professionals he has worked with frequently. Not only did he arrange for the inspections though, he was also the person present when they occurred! I thought his level of commitment was exceptional. The inspections turned out better than expected and we decided to purchase the home. Ryan's guidance enabled us to negotiate a great deal on the house
Ryan was then able to broker a later closing date with $5,000 of closing costs paid for by the owner. The extra time was necessary to enable us to find a qualified general contractor and to secure a construction loan. We were able to close on the final day of the contract with the bank. If Ryan had not been so on point from start to finish, there is no way we would have been able to close on the house."
Savannah B.
"We cannot thank you enough for helping us get into our first home! It really has been such a smooth and simple process and that is all thanks to y'all.
We really appreciate your 24/7 availability and the care you have shown for us in the whole process.
We will continue to recommend you guys to friends in the area! You are guys are the best!"
P. Duke, Realtor
"As a realtor in Raleigh for 25 years, it is always a pleasure to have a transaction with an agent who is excited and knowledgeable and happy to help their client. And in addition to have an agent who is responsive on all fronts is outstanding. This does indeed describe my transactions with broker Ryan Boone. Consider yourself lucky if he is your realtor."
John C., Attorney at Law
"Ryan and I have a great working relationship. I have always found him to be very professional and efficient. As an attorney, this makes my job much easier being able to facilitate closings and other business in a timely manner. I highly recommend Ryan to anyone looking to buy or sell real estate. You can be assured that Ryan will be available at all times in order to make sure his clients receive the best experience possible."